In lockdown, I went on a surfing and yoga retreat – via Zoom
It's Sunday afternoon and I'm polishing my surfing "pop up" technique under the instructor's watchful gaze. I lie prone, elbows in, chest raised and push off the balls of my feet, jumping into a wobbly high crouch. It's not the most graceful move, but coach Rachel shouts encouragement at my efforts.
I'm on a "retreat" with Soul & Surf, which runs yoga and surfing holidays in Portugal, India and Sri Lanka, but this weekend we're not in an exotic location by the sea. I'm trying out its new Soul & Surf Pause – a two-day "virtual holiday" with the action taking place in my living room via Zoom.
"We wanted to recreate the elements of a retreat with us – and stay connected while we can't travel," said co-founder Ed Templeton. "There's the yoga and surfing, but that sense of community too."
The timetable is a mix of live classes and pre-recorded material, and we join an introductory chat to meet the team and other guests in lockdown around the world. There are three hour-long Zoom yoga classes in different styles, from dynamic vinyasa to grounding yin, designed to counter our more sedentary lives and aid relaxation. We spend a pleasant hour learning shiatsu self-massage with Becca, finding acupressure points to strengthen lungs and release stress.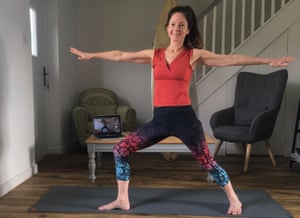 There are playlists to boost the holiday vibe, suggested menus with short video cookery demonstrations (my Sri Lankan dal tastes great despite missing a few ingredients) and recorded breath work, meditation and yoga nidra (sleep) classes to dip into. A surf and music film (Self Discovery for Social Survival, on Amazon Prime) is suggested for an ocean boost – and to analyse for surfing techniques.
As someone self-isolating alone, I love having days planned and punctuated with regular check-ins with other people. On Saturday evening we meet Sam Bleakley, pro-surfer and filmmaker (we've been sent a link to his Brilliant Corners: Kerala), and talk about the growing surf culture in India. We also hear from marine activist Natalie Fox about eXXpedition, an all-female sailing trip to collect data on ocean microplastics.
The Sunday evening sundowners come around all too quickly. It has been a perfect mix of physical activity, interesting chats and time to chill – a weekend "away", without stepping outside the front door.
• Soul & Surf's next home retreat is on 9-10 May, with others to follow, £80pp. Cost includes contributions to charity partners Surfers Against Sewage and the Sebastian Indian Social Project in Kerala, and some free spots for key workers